In eerdere artikels hadden we het reeds over het belang van SEO, het gebruik van links en hoe je relevant kan zijn. Om hierop verder te gaan, bespreken wat een blog kan betekenen voor SEO.
Een blog geeft lezers meer informatie over bepaalde onderwerpen. Het is een soort van nieuwsartikel, en net daarom een tool die zijn waarde bewijst op vlak van SEO.
Geef een antwoord op mogelijke vragen
Het belangrijkste van je blog is het beantwoorden van vragen. Je mogelijke klanten zoeken namelijk vaak op een vraag. Bijvoorbeeld: 'waarom zou ik bloggen voor mijn bedrijf'. Als je dan de juiste keywoorden gebruikt, zoals uitgelegd in SEO sessie 3, zal je alvast goed scoren op Google. Niet enkel zal je goed scoren, ook zal je bezoeker een positieve ervaring hebben met je bedrijf aangezien je hem/haar hebt verder geholpen.  
Google kijkt ook naar de populariteit van zoekwoorden. Ga op zoek naar woorden van het moment of speel in op actualiteit om nog beter te scoren. 
Hoe weet ik welke vragen mijn klanten hebben?
Een makkelijke manier om te achterhalen waar veel opgezocht wordt, is door een kijkje te nemen tussen de relevante zoekopdrachten, onderaan de Google resultaten. Hier vind je extra keywoorden en zie je meteen waar je wel of niet op wil gevonden worden.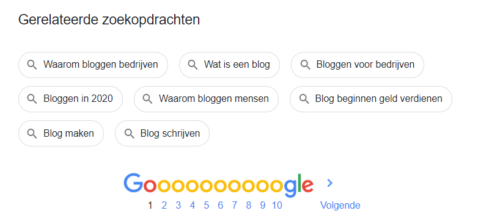 Vaak het beginpunt van je website
Een blog vormt ook een saleskanaal. Het zal een antwoord geven op de vragen van mogelijke klanten, en zal dus een eerste pagina zijn waar bezoekers op landen. Ze zullen het artikel lezen en indien geïnteresseerd verder klikken op je website. Een kans op een lead wordt zo meteen vergroot. 
Maak een contentplan
Tot slot zorg je best voor een contentplan. Dit is een handig overzicht van de geplande berichten. Zo heb je in een handig overzicht wat je nog moet voorbereiden en waar je eventueel nog berichten kan toevoegen. Mispak je niet aan een blog. Het is tijdsintensief en niet altijd even makkelijk. Zorg dus voor een goede voorbereiding. 
Om te concluderen. Start met bloggen. Het zal je ranking in Google ten goede komen en je bezoekers zullen zich begrepen voelen op je website.
Zoek je ondersteuning om dit op te starten? Neem contact op voor een vrijblijvend gesprek.